CHECK OUT OUR NEW RANCH IN WILLIAMS, AZ!

PET BOARDING
Our boarding facility, which is tucked away in the heart of Cave Creek, Arizona, is for high energy, medium to extra large breeds. Your dogs can have fun chasing llamas and goats on our private 4-acre fenced ranch, or just hang out with our giant tortoises and emus.

READ ONLINE REVIEWS
Llama Palooza Ranch is licensed, bonded and insured and family run. Know that your pet is safe and having an amazing time during their stay with us. Read some reviews on Facebook!
"Everything But Ordinary"
Our boarding service is unique in that we create a fun open environment in which all dogs are free to roam around our fenced in ranch and interact with each other as well as an array of exotic and farm animals. There is a lot of stimulation and never a dull moment on the ranch.    We cater to such breeds as working dogs, bird dogs and guard dogs etc. in that we tap into their innate abilities and let them enjoy a variety of activities as well as provide socialization skills.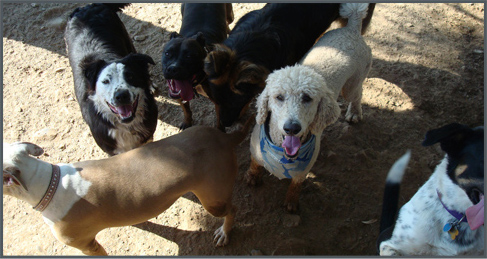 Inside & Outside Areas
Our dog guests have the run of our property both inside & out

Day Care & Socialization
We offer dog day care & socialization training for $20 per day

24 Hour Supervision
All animals are under constant supervision and are not left alone

Owner is Dog CPR Certified
Feel confident that your dog is in good hands during their stay with us

Medium & Large Breeds
We specialize in boarding & working with medium & large dogs

All Dogs Sleep Inside
Your dog can either spend the night in our stables or in our home

VISIT US
Cave Creek, Arizona
EMAIL US
info@llamapalooza.com