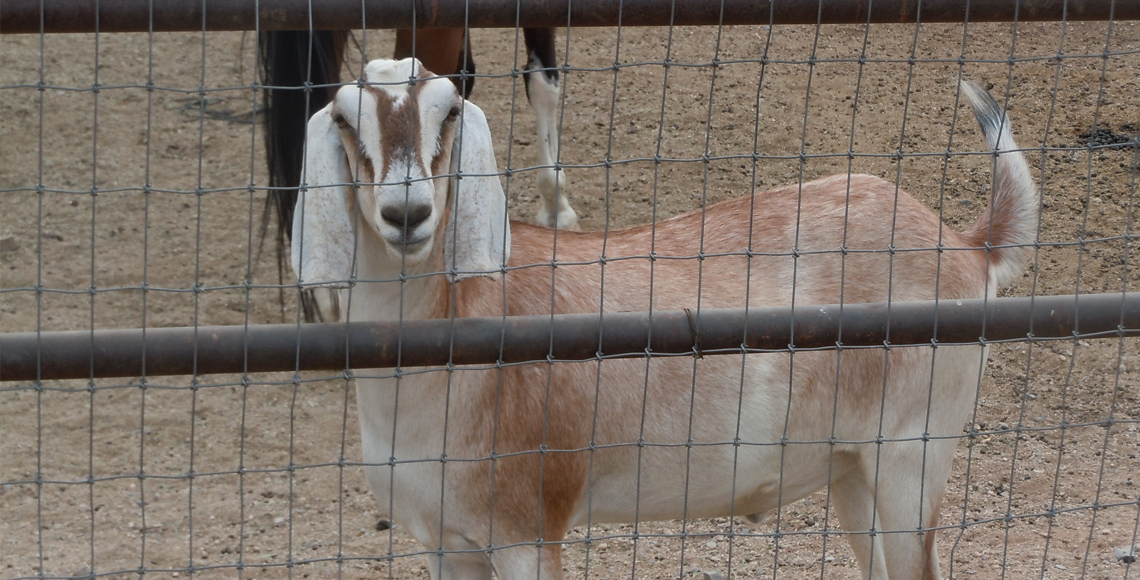 Cave Creek resident Pamela Balin calls her business, "everything but ordinary".
As she offers a tour around her five-acre property that catch phrase becomes easy to understand. Llama Palooza Ranch and Pet Boarding offers pet owners a unique place to bring their large dogs, whether it's for an afternoon or an extended stay. After a business in the souvenir gift shop industry withered when the economy went south the eight-year Cave Creek resident sought a new course of action.
"It was right here under my nose and for a while I didn't realize it, but I've always loved animals," she said. With an array of animals on her property including emus, llamas, goats, tortoises, birds along with her own dogs, pets visiting her property have a wealth of options for playmates.
"I love all animals, especially dogs," she said. "I really started this as a favor. I was watching people's pets. I was going and house sitting at people's homes, but once they saw my property they wanted to bring their animals out here." Balin said she's had some clients bringing their pets to stay with her for as long as five years.
"Some people just bring them out here for the day," she said. "Others drop them off for a weekend, a week, even as long as three months for those leaving on extended vacations. Once I get them out here they come back." Balin said she has customers that travel from as far away as Peoria to come to her property at 5916 E. Highland Road, located west off of Spur Cross Ranch.
Carolina Zelekz, a north Scottsdale woman, has taken her 8-year-old Siberian Husky to spend time at the Llama Palooza Ranch after the dog started experiencing severe issues with cluster seizures. "She was getting them so often and they were so debilitating to her that we were really considering euthanasia," Zelekz said. "The medications weren't helping her, but she had two visits out there for two weeks each and she has quit having seizures. She's doing so much better. I don't know how to explain it. It's unexplainable except Pamela is a lovely lady. They could make a movie about her. The way she handles the animals out there, she's so full of encouragement and positive energy and is so understanding that I think it helps all the animals."
Balin said occasionally she has animals that don't get along, but with numerous fenced off areas within the property allow her to easily separate those animals. "If everybody gets along we give them free reign around the property," she said. "After they've been here a couple times it's funny how they all seem to stake out their favorite areas. There's something calming about being out here for them."
Kristy Brose, a former New River resident who now lives in Phoenix, said she takes her three English Mastiffs and her Norwegian Elkhound to Llama Palooza Ranch and Pet Boarding because of all the area there is to roam for her large dogs. "This last time I think was their fifth trip there and they came back absolutely exhausted, so I know they had a good time," she said. "I feel good leaving them with her. They've gone for up to four days and I know they have plenty to eat and drink, that they have a doggie door so they can go inside if they're too warm and that they have a place to sleep at night. She has a great setup, with little plastic play pools where they can cool off. She does a great job taking care of them."
Balin said while most boarding business have the dogs in kennels most of the day the animals she cares for roam free throughout the day.
Trained in animal CPR, Balin said that she'd like to have approximately eight to ten dogs at the property daily where she and her 10-year-old son tend to the animals. "I just love what I'm doing,' she said. Balin said she's so confident in what she's doing that she is willing to give new customers a free afternoon at the ranch.
For information about Llama Palooza Ranch and Dog Boarding go to llamapaloozaranch.com or call 602-214-8224.